The Accounts Payable section (FAP-ACC-AP) is responsible for recording, controlling and authorizing all supplier invoices for payment. All invoices and credit notes from suppliers must therefore be sent directly to FAP-ACC-AP, preferably electronically.
The section collaborates closely with:
The technical party
The commercial party
General Accounting
The Treasury service
Suppliers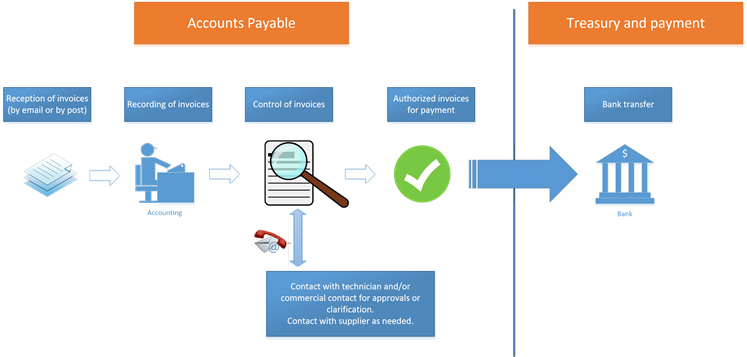 The section treats between 45,000 and 50,000 invoices in a normal year.
If the controller detects differences when they are controlling an invoice, they make contact with the technical contact, the commercial contact or the supplier depending on the nature of the differences in order to find a solution.
Some orders require the "qualitative" approval of the Technical contact before the invoice can be paid in order to ensure the goods or services are conform to the order (these orders denoted as 'Manual' in the DAI).
The section is also responsible for all requests from suppliers related to invoices and payment. Using the email address accounts.payable@cern.ch via a ticketing system will ensure that the request is followed by the A/P service and assigned to the correct contact.
Contacts
Additional Resources
accounts.payable@cern.ch
IPT Website

Head of Section: Christophe Marme

VAT document

Postal Address:

CERN
Finance and Administrative Processes Department
Accounts Payable (4/3-009)
Mailbox C21000
CH-1211 Geneva 23

-
FAQ (Frequently Asked Questions)
Payables FAQs
Accounts payable for suppliers
Accounts payable for CERN
When signing this document, the technical responsible agrees on :
the quantities received
the conformity of the goods or services delivered
The agreement will result in the payment of the invoice to the supplier.
The EDH Reception Approval document is automatically generated and sent in the name of the Reception service for orders designated 'manual' where the goods are received by Reception.  These manual orders require a 'qualitative' reception by the technical contact (to ensure the quality is accepted and not just the physical goods).
The same format EDH Reception Approval document is generated by Accounts Payable for manual orders which have not passed through reception but an invoice has been received (typically for services). 
In addition, for all orders (manual and automatic), if there is a difference between the invoice and the orders (for example charges exceed the order), Accounts Payable will also initiate the EDH document or re-route the existing document.