COVID-19 INFORMATION
Following CERN's measures and recommendations in relation to the coronavirus COVID-19 situation, the Organization has taken the decision to limit activities on-site to those essential for the safety and security of the site and equipment. This means the activities of our mail service are also limited, and as a result paper invoices may have large delays reaching Accounts Payable.
The Accounts Payable Service will continue to work remotely, and to process your invoices and questions sent by email to accounts.payable@cern.ch. Please accept our apologies for any delay and thank you for your patience and understanding.
All invoices and credit notes from suppliers are received in the accounts payable section (FAP-ACC-AP). They are recorded, controlled and authorized for payment.
The section collaborates closely with:
The technical party
The commercial party
General Accounting
The Treasury service
Suppliers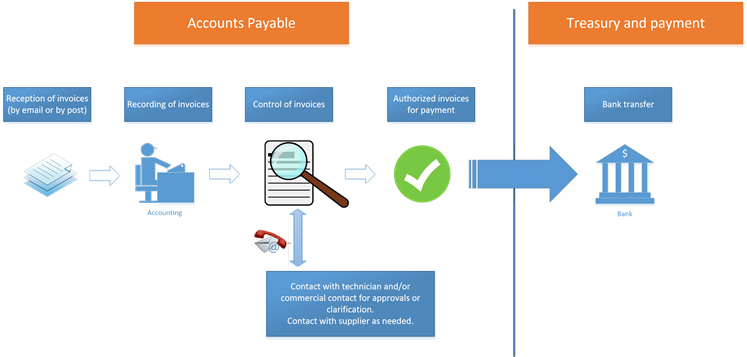 The section treats between 45,000 and 50,000 invoices per year.
If the controller detects differences when they are controlling an invoice, they make contact with the technical contact, the commercial contact or the supplier depending on the nature of the differences in order to find a solution.
Some orders require the "qualitative" approval of the Technical contact before the invoice can be paid in order to ensure the goods or services are conform to the order (these orders denoted as 'Manual' in the DAI).
The section is also responsible for all requests from suppliers related to invoices and payment. Using the email address accounts.payable@cern.ch via a ticketing system will ensure that the request is followed by the A/P service and assigned to the correct contact.
Postal Address
CERN
Finance and Administrative Processes Department
Accounts Payable (4-3-009)
CH - 1211 GENEVA 23
Switzerland
Contacts
Head of Section: Christophe Marme
FAQ (Frequently Asked Questions)